Our Dogs
Males
Cypress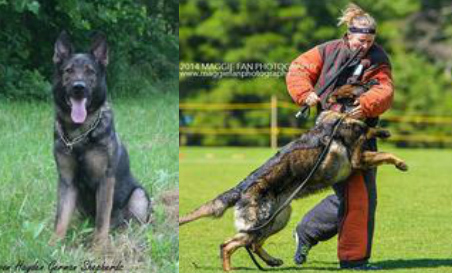 Nambo z Elbu (CYPRESS) Czech Import
Registration: CMKU/DS/70598/08 / AKC: DN27986602
Tattoo # 33830
STUD DOG (NOT FOR SALE)
PDC Title PSA,
Cypress is a large shepherd with a massive head piece and bone structure. He has extreme drives with a crushing bite all while maintaining perfect social behaviors. He will pass on strong nerves and excellent working drives along with great pigment. Cypress will bite with or without equipment. He also demonstrates excellent hunt drive and scent detection abilities.
Females
Bella
Bella is out of Achilles Vom Kelterhoff PSA2 / FR1 / MR1 / IPOA / PD1 / CGC / TDI / IDWP1 / WP1 /GDT / IDT3 / IDT5 / HCT / PPD PREP / PPD1
(training for PSA3)
OFA HIPS EXCELLENT OFA # DS-135E25M-VPI
OFA ELBOWS NORMAL OFA # DS-EL93M25 and Jitz PSA PDC/SDA FO/ CGC BRN 23732 . Bella is an extremely balanced dog with excellent drives in all phases. She will be starting her career in PSA by the end of the 2016 season.
In Loving Memory
Snatch
Pittbull Terrier
About 13-14 years old
(Adopted by Hanlon's K9 from Popcorn Park Zoo)
Snatch is the embassador for all pittbulls. He is totally social with every dog or person he meets. Snatch came to our facility on a planned adoption day and never left. Rob fell for him as soon as he entered the room. Snatch has the job of guarding the school and greeting clients, both of which he does very well!